Become a Partner
Our success has relied on the many partners in our public-private alliance.
TeenSmart is available wherever a teen has a device with internet access. Youth in over 18 countries access services at JovenSalud.net.
HOW TO BECOME A PARTNER
We work with individuals, families and corporations to design signature opportunities for development. Contact our Director of Development for further steps.
1. Sponsor a school
2. Sponsor a region
3. Become a technical partner for JovenSalud 3.0
4. Donate for our Lift Campaign.
BENEFITS OF BECOMING A PARTNER
As a partner, you have the opportunity to:
• Engage youth in the community
• Participate in local efforts
• Strengthen your corporate social responsibility programs
• Contribute to objectives for sustainable development
• Share your brand through TeenSmart events
.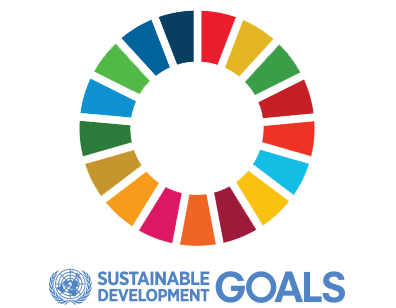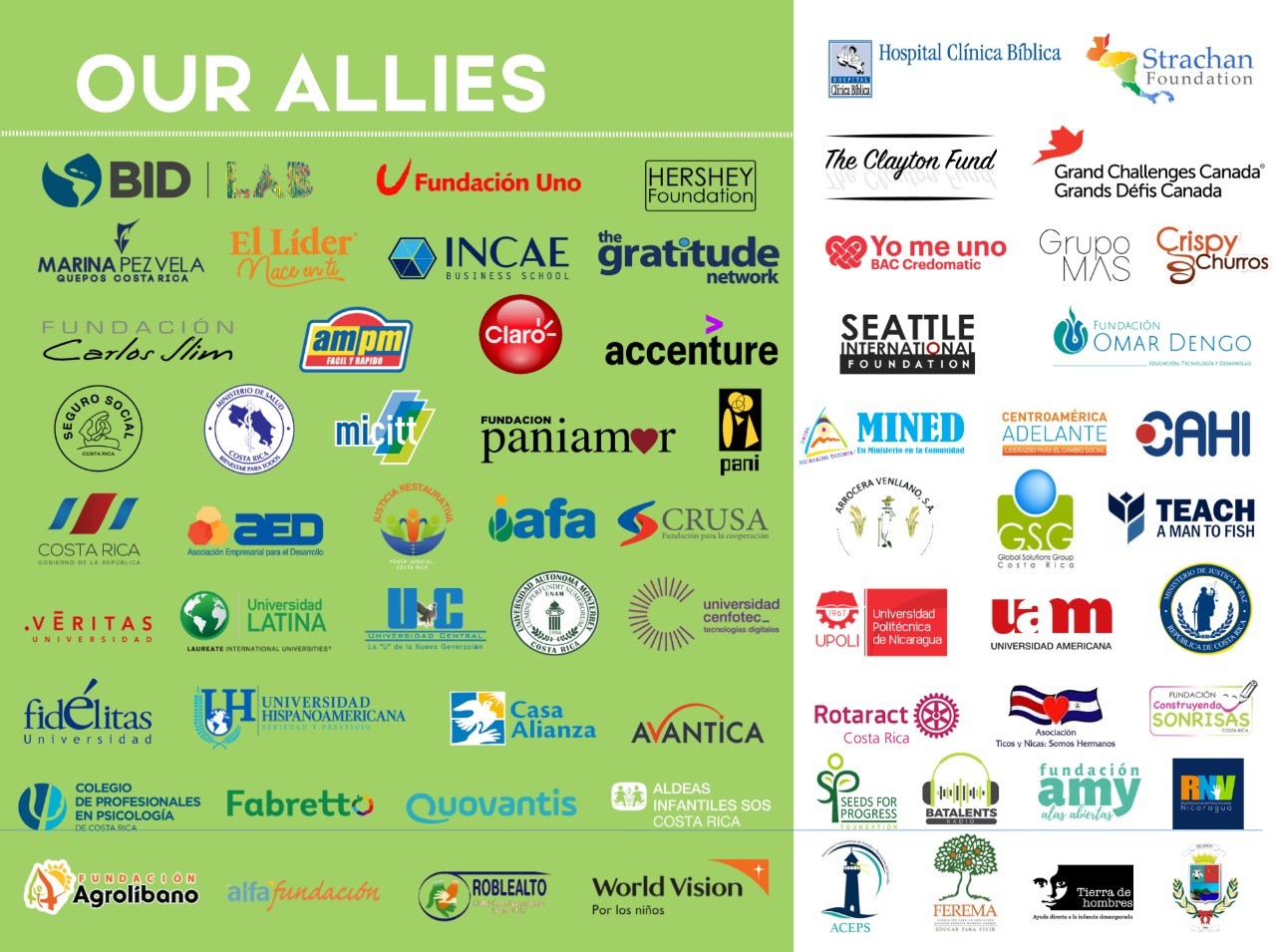 Our Implementing Partners
COSTA RICA
Aldeas SOS Cocos
Aldeas PANI Moín
Área de Salud Cariari CCSS
Área de Salud Guácimo CCSS
Área de Salud Guápiles CCSS
Área de Salud Limón CCSS
Área de Salud Matina CCSS
Área de Salud Siquirres CCSS
Área de Salud Talamanca CCSS
Asociación Autismo con Amor
Biblioteca Pública de Golfito
C.I Niño Feliz – Asoc. RobleAlto
C.I. 15 de Setiembre – Asoc. RobleAlto
C.I. Los Guido- Asoc. RobleAlto
C.I. Manantial – Asoc. RobleAlto
CEN-CINAI Guácimo
CEN-CINAI Liverpool
CEN-CINAI Batáan
CEN-CINAI Brunca
CEN-CINAI Pocora
CEN-CINAI Talamanca
Centro Educativo Liverpool
Centro Educativo San Marcos
CEPIA
CINDEA de Limón
Colegio de Tabarcia
Colegio Deportivo de Limón
Colegio Diurno de Limón
Colegio Experimental de Siquirres
Colegio Humanístico Coto
Colegio La Salle
Colegio Línea Vieja
Colegio Monterrey
Colegio Santa Ana
Colegio Santa Marta
Colegio Técnico de Quepos
Compas-Programa de Acción Social Hospital Clínica Bíblica
Complementaria de Cahuita
COTEPECOS
CTP Agropecuario de Corredores
CTP Agropórtica
CTP de Batáan
CTP de Corralillo
CTP de Guaycará
CTP de Heredia
CTP de Osa
CTP de Platanares
CTP de Quepos
CTP de Sabalito
CTP Limón
CTP Liverpool
CTP Palmitas
CTP Pococí
CTP Siquirres
CTP Umberto Melloni
CTP Valle de la Estrella
Escuela 15 de setiembre
Escuela Balvanero Vargas
Escuela Barrio Canadá
Escuela Barrio Limoncito
Escuela Carlos Sanabria
Escuela Central Coto 47
Escuela Central San José-Golfito
Escuela Copa Buena
Escuela Coto 52
Escuela El Cocal
Escuela el Encanto
Escuela Enrique Strachan – Asoc. RobleAlto
Escuela Finca Guararí
Escuela Finca San Juan
Escuela Jorge Debravo
Escuela Juan Lara Alfaro
Escuela Julian Volio Llorente
Escuela La Lucha
Escuela Líder Los Lagos
Escuela Líder Roxana
Escuela Lomas del Río
Escuela María Auxiliadora
Escuela María Luisa de Castro
Escuela Peñas Blancas
Escuela Proyecto Pacuare
Escuela Rafael Iglesias Castro
Escuela República de Haití
Escuela Río Grande
Escuela San Gerardo
Escuela San José – Heredia
Escuela San Luis
Escuela San Rafael-Ciudad Neil
Escuela Savegre
Escuela Valores Saprissa
Firs Baptist Church
Fundación Acción Joven
Fundación Amy Alas Abiertas
Fundación Construyendo Sonrisas
Fundación DAADIOS
Fundación Rahab
Fundamentes
Guías y Scouts
Hogar Jesús, María y José
Hospital Clínica Bíblica
IEGB Paraíso Iglesia Cuadrangular Cortés
Iglesia Episcopal San Marcos
Iglesia Oasis de Elim el Cocal
IMAS CORREDORES
Justicia Juvenil Restaurativa
Justicia Penal Juvenil
Liceo Bilingüe Agua Buena
Liceo Capitán Ramón Rivas
Liceo Ciudad Neily
Liceo de Cariari
Liceo de Limón Mario Bourne
Liceo de Puerto Viejo
Liceo de Sabanillas
Liceo de San José
Liceo de Santa Marta
Liceo de Venecia
Liceo Experimental de Pococí
Liceo La Perla
Liceo Noct. de Ciudad Neily
Liceo Nocturno de Puriscal
Liceo Nuevo de Llimón
Liceo Pacífico Sur
Liceo República de Italia
Liceo Rural Buena Vista
Liceo Santísima Trinidad
Liceo Villareal
MICITT
Ministerio de Salud
ONG URBANIUM
PANI Limón
PANI Pavas
PANI Tibás
Pastoral de Juventudes San Isidro de Pérez Zeledón
Programa de Atención al Adolescente – Asoc. RobleAlto
SINEM -Sistema Nacional de Música
SURGIR
Trayectorias Juveniles CR
Unidad Pedagógica de Río Cuba
Universidad Nacional de Costa Rica- PIC. Isla Caballo
VIDAPRO
HONDURAS
Fundación Agrolíbano
Fundación FEREMA
MEXICO
Fundación CASA
Fundación ALFA
NICARAGUA
Academia Santa María
Asociación Pan y Amor
Cent Esc LorenzoGuerrero MINED
Cent Parroquial Belén Glasswin
Centro Carita Feliz FABRETO
Centro Edc Sn Sebastián MINED
Centro Esc Elías Serrano MINED
Centro Salvador Mendieta MINED
CentroEsc Pedro Chamorro MINED
CentroModesto Armijo MINED
Clínica Verde
Col Andrés Vega Bolaños MINED
Col Cristiano Filadelfia FZT
Col Luis A Velásquez F MINED
Colegio Central de Nicaragua
Colegio Centroamérica
Colegio Josefa Toledo MINED
Colegio Santa Rosa de Lima
Esc Buenos Aires – Semillas PP
Esc Carmela Noguera – MINED
Esc de enfermería UPOLI Rivas
Esc Ena Sánchez – Semillas PP
Esc René Schick – MINED
Esc Rubén Darío – Semillas PP
EscAguas Amarillas Semillas PP
Escuela Enfermería UPOLI – Mga
Fundacion AMOS
Fundación Empowerment
Fundación NICAIMPAC
Igl Fuente de Vida Compassion
Igl Jesús Camino- Compassión
Inst 14 deSeptiembre Mga MINED
Inst Benito Lacayo MINED
Inst Benito Salinas – MINED
Inst Benjamín Zeledón -MINED
Inst Camilo Zapata MINED
Inst Centr Carlos Vega B MINED
Inst Cristobal Rugama MINED
Inst E Che Guevara -MINED
Inst Edgar Arbizu MINED
Inst Enrique Flores G. MINED
Inst Excelencia Académ MINED
Inst Experimental Mx MINED
Inst Héroes y Mártires MINED
Inst John F Kennedy MINED
Inst JuanJosé Rodríguez MINED
Inst Laurem Sheideman MINED
Inst Madre Teresa C.- MINED
Inst Maestro Gabriel – MINED
Inst Manuel Hernández MINED
Inst Mélida Lovo – MINED
Inst Nac de Camoapa MINED
Inst Nac de Chinandega MINED
Inst Nac José Dolores MINED
Inst Nac Juan XXIII MINED
Inst Nac Miguel Bonilla MINED
Inst Nac Santa Teresa – MINED
Inst Nac Ticuantepe MINED
Inst Nacional de Boaco MINED
Inst Nacional de Oriente MINED
Inst Nacional La Salle -MINED
Inst Pre-Univ El Mesías
Inst Ramírez Goyena MINED
Inst Ramón Matus -MINED
Inst Rosend López Cruz R MINED
Inst Tecnológico de Granada
Inst Tomás Ruiz Romero MINED
Inst Fernando Salazar MINED
Inst Jonathan Gonzále MINED
Juzgado de adolescentes Carazo
Juzgados de adolescentes Rivas
Normal Alesio Blandon MINED
Normal Ricardo Morales MINED
NormalDarwinVallecillo MINED
Tierra de Hombres – Mayoreo
Tierra de Hombres Masaya
UPOLI filial Boaco
UPOLI Managua
UPOLI Rivas